As summer winds down and the days grow more steamy, the perfect leisure activity is reading.  I like nothing better than spending the day in the shade with a lounge chair, an iced tea, and a great book.  Right now, I have several books going to get me through the steamy days of late summer.
Go Set a Watchman, by Harper Lee
As a teen, I was required to read 'To Kill a Mockingbird" for school.  It was good, but it was an assignment.  I read this book not to learn or enjoy, just to be able to answer the questions on the exam.  That kind of reading lacks any staying power for me, so when I heard that Harper Lee would be publishing another book, I thought I should re-read the classic.  It was fantastic and I finally understood why, for so many years and so many people, this was a favorite book.  It is well written, exciting, sad, scary, and thought provoking.  What more could a person want from a book!?!  When 'Go Set a Watchman', there was a long hold list, so I am only now getting my hands on a copy.
I'm about 50% through and while it interesting to meet-up with Scout and Atticus, the writing style is clearly far less polished and contained.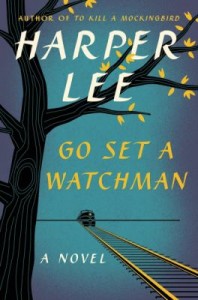 I keep thinking–this should have been edited here; that sentence structure is odd; why is that here and not there?  In short–I am so focused on the mechanics of the writing, I'm struggling to enjoy or even engage with the story itself.  Various news outlets reported that Ms. Harper was not up to the the editing process, so the novel was published with very little change from how it was found.  That's sad–it suffers from this lack of rigor and therefore pales in the inevitable comparison to Mockingbird.
The story itself–when I force myself to relax and let go of the mechanics–is very good so far.  Scout is now 26 years old and goes by her given name Jean Louise.  Atticus is now 72, suffering from debilitating rheumatoid arthritis.  Both are–as we all are when we age–very different people than who they were in 'To Kill a Mockingbird'.  Scout is still spunky and abrasive, Atticus is still thoughtful and delibrate, and Maycomb County Alabama is still a small town with lots of opinions both spoken and whispered.
Generally, literary characters stay stuck in time.  Therefore, it's very interesting to see who these characters have become.  While I am unsure of what my final feelings will be about this book, I am happy that I am giving it a try.
The Martian, by Andy Weir
This is my true "summer reading" book.  I'm not generally a sci-fi fan, but I dip in from time to time.  This book, which has been made into a movie opening this fall, is getting a ton of buzz.  Even people who say–I hate science-fiction, say they like this book.  I figured, what the heck, I'll give it a go.  I LOVED IT!!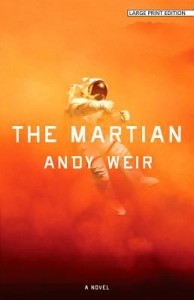 This was, without a doubt, my favorite book I have read in 2015.  It fast paced, funny, informative, and all together a fun ride.  It is set in the future, science plays a big part, and it is fiction–beyond that, it is not a sci-fi book.  It's an adventure story with a little MacGyver thrown in.  It is the story of NASA Astronaut Mark Watney, a botinist and engineer.  Watney is a member of the first manned mission to Mars.  While out on a mission to collect samples, a fierce storm erupts injuring him and forcing an early emergency evacuation.  Thinking he is dead, they leave Mark behind.  But he isn't dead…
Not only does Watney need to learn how to survive, he needs to find a way to let NASA know that he is still alive.  Told via Watney's log entries (he is a good astronaut after all), what follows is a funny, scary, touching, and exciting adventure tale.  This is a page turner–I finished it in two sittings (and couldn't wait to get back to it after I put it down).  This book is great for anyone looking for some excitement in their reading.
Paris In Love, by Eloisa James
I knew I wanted to read a book set in Paris this summer.  When I am unable to travel in reality, the next best thing is to travel  via book.  This is the story of two academics from New Jersey raising two kids, who packed up and moved to Paris for a year.  Without a job or writing deadlines, Eloisa spent her time enjoying Paris and all that it has to offer and she brings us along with her.  There are the normal tourist haunts such as the Eifel Tower, but she also discovers the pleasures of the city that only a person living there can find.  It's charming and delightful and a great escape!
If these aren't your cup of tea, stop by the reference desk–we have plenty more titles we can recommend for readers of all tastes.
Cynthia L., August 2015